Mellow Yellow's Kloie A Princess of Hatz Off
Mellow Yellow's Kloie A Princess Of Hatz Off
OFA HIPS Excellent, OFA Elbows Normal, EYES CERF Clear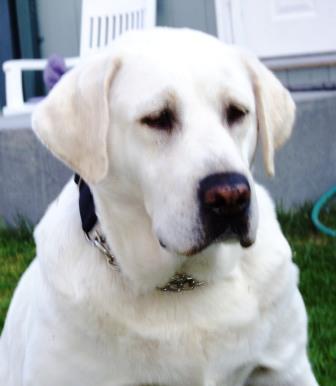 Kloie is our sweetheart foundation icy white white Grandam who was the best dog ever! Kloie is found in nearly all of our white Labrador lines and laid the groundwork for the start of our Simply Silver meets Mellow Yellow Labradors, this the dream began to combine our white English Labrador Retriever lines with our Simply Silver Labrador Retriever lines paving the way for our goal which is to produce an icy white white Labrador with a charcoal nose and blue/green/grey eyes for which this rare color combo has yet to be promoted in the Labrador Retriever purebred silver variety of coat color for which we intend to call this new coat color Chinchilla (charcoal nosed white!). Many Champagne (light silver nosed yellow) colored purebred Labrador Retrievers have been born, produced, and promoted to date but we intend to be the first AKC purebred Labrador Retriever breeders who produce and promote the Chinchilla!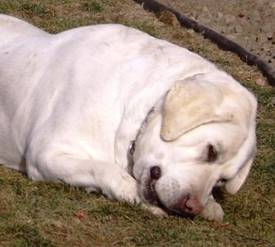 Kloie was very very much an English heavywieght in her look and type having a large bulky stout square frame, a gorgeous blocky head, and she weighed a hefty 92 lbs! Kloie had a stunning sparkly icy white white coat with a traditional black nose and Kloie could only procude creme, white, and black puppies. Kloie was retired from our breeding program in 2010, and passed away at age 11 in July 2011 in Big Sky Montana. We will forever be blessed with our Kloie Kids! Kloie is mother to Patty and Peaches, grandmother to Skyrim (Kyler) Rowkey and Opi, great grandam to Rocha, grandmother to Isis and Kokomo, and great grandam to Lilly.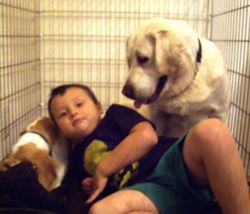 Above is a picture of Kloie with our son Jhett and our beagle Lilly in the crate, Kloie was the best dog ever and everyone who ever met Kloie all agreed, Kloie was a ture gem of a sweetheart, super neat dog and the best mother you could ever ask for in the world. One time Kloie who did not have any puppies of her own at the time, started to actually spontaniously proudce milk and nurse Peaches puppies when Peaches was not able to nurse her won puppies herself, her momma did it. Kloie is a true icy white English Labrador lady, heavyweight in style and you can totally see the family resembalence all the way down the line with touches of Kloie in every dog we still breed and produce today coming from our foundation lines of Kloie.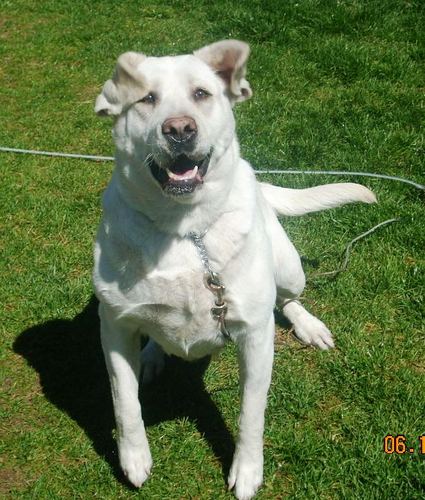 Kloie was always up for retrieving as seen here in this picture at age six where she was all worked up over the kong! Kloie was the only Labrador we ever owned who could destroy a Kong, and Kloie could also mount a puppy break out of any pen or enclosure we ever erected in as little as 15 minutes or less! Dont we want to put a disclaimer on the bottom of this one stating that any decendants of the Kloie bloodline will thus never be Labradors that can be guaranteed NOT to dig, break out, tunnel under, peel back, destroy, dismantle, devour, or have the tendancy to be lazy at all times until you are not looking or until you pull out the tooys, when there will certainly be a guarantee for the true retriever instinct to come out of any Labrador we sell that comes from the Kloie line...laugh. Kloie by far was my best producer, may we some day have another one like her, but not likely. Kloie was one in a million, and her last daughter was Patty out of Texas who is the mother of our Skyrim! Thanks Kloie. For everything.
Kloie with her all white litter, we got just 4 puppies total in this litter born in 2009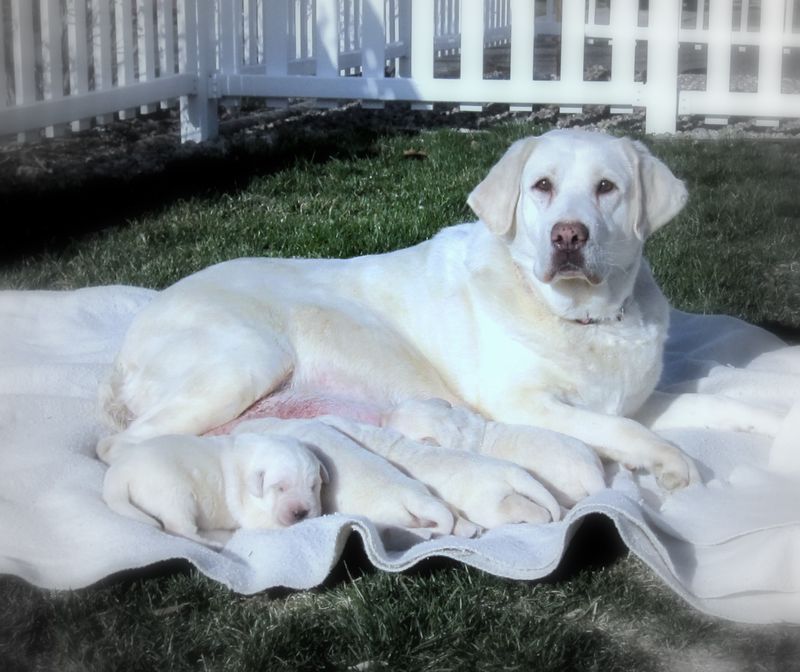 Kloie shown above with her daughter Mellow Yellow's Vanilla Schai Tea who was a white Kloie daughter out of Casper, realted to Quiz Isis' mom.
Kloie's last litter (below) is out of our charcoal Silver Star male Texas which included 1 black female Patty, who is the mother to our Skyrim, and there were also two black males in this last Kloie litter out of Texas both of which were sold.