Mellow Yellow's Bearly White Kodiak
Meet Mellow Yellow's Bearly White Kodiak, Kodie, who is now living in Washington. Kodie is GORGEOUS! OFA Hips Excellent, Elbows Normal, Eyes CERF clear. 94 lbs, and a beautiful shade of Bearly White Creme! Kodie is truely a Mellow Yellow Fellow, carries chocolate, and will always be a hallmark sire in our breeding program.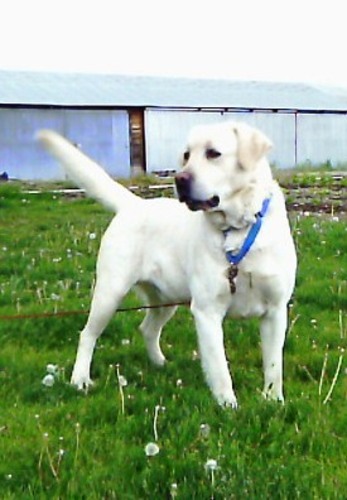 Mellow Yellow's Bearly White Kodiak, 94 lbs, sweetheart disposition, great retriever with super laid back easy going style who produced white white as well as chocolate and Kodie is the sire to our light milk chocolate male Kona who is turning out to be even bigger and more blocky than his dad, Kona is well over 90 + lbs at just under age 1 year and we cant wait to see how Kona matures out to be fully, but we certainly are impressed with Kona, thanks Kodie boy...we miss you dearly every day! Say hi to Peaches for us Kodie!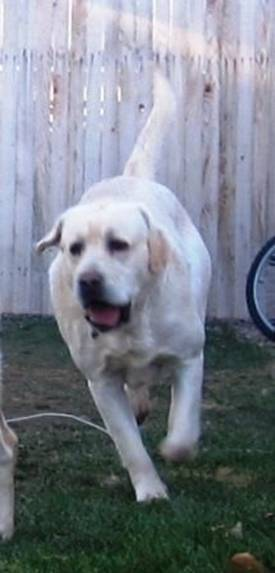 Kodie bigmouth...he is a gorgeous guy and is a very lovely shade of very light light yellow or buttercreme who always produced one white white puppy in every litter he ever sired for us. Kodie is grandsire to Skyrim our white white chracoal nosed chinchilla.
Classic headshot showing off Kodie's master headpiece. He passed on his handsome head to his son Kona for sure!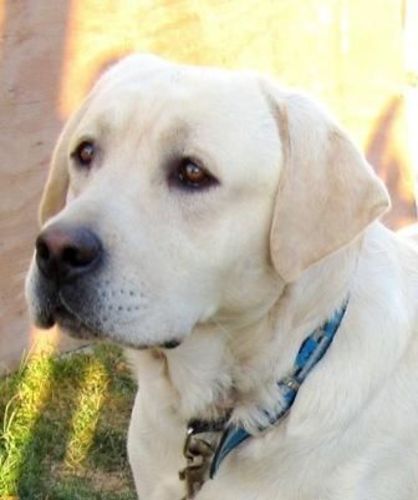 Kodie is cute isn't he? What a charmer Kodie is, and he is such a fun lover of a guy, his offspring definately have taken after his easy going laid back style. We are blessed that Kodie is the grandsire to our own Skyrim, and we hope Skyrim takes after his sire Kona and grandsire Kodie in the good looks department. We certainly have high hopes for our white charcoal nosed chinchilla male Skyrim! We have definately taken the time to put together some of the very best in Labrador breeding to put behind Skyrim, so we know for sure he has huge potential, we cant wait to see how Skyrim turns out...check back often for new updated pictures of Skyrim!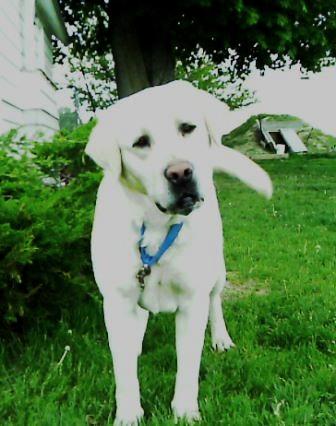 Mellow Yellow's Bearly White Kodiak
Sire to Simply Silver's Kona Kailua Carries All Colors, Kodie carries yellow, white, and chocolate , OFA hips Excellent, Elbow's Normal, eyes CERF clear.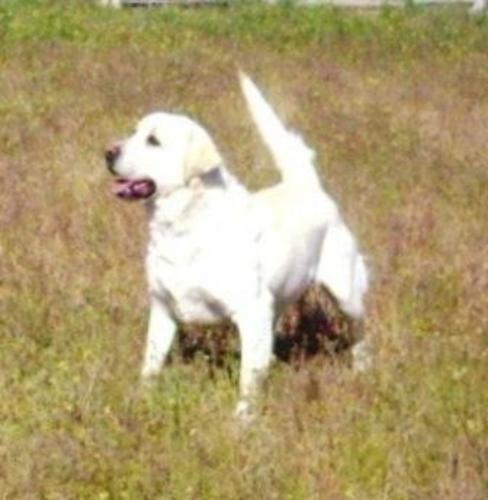 Kodie pictured age 3 years old at JR Simplots hunting hound kennels located in Fruitland Idaho.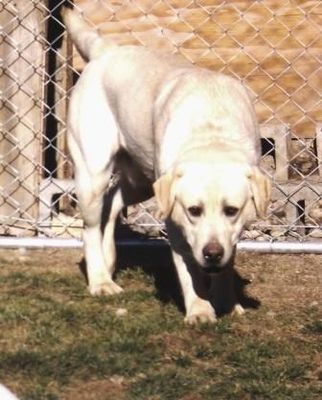 Kodie (above), on the prowl...And (below) dancing with Peaches when she was a 4 month old puppy. They danced beautifully together, however Peaches by far was the tightes retriever we ever had the pleasure of owning and we train all of our Labradors ourselves to be some of the truest Labrador Retrievers you will ever find or have the pleasure to own, love, and have! Own your next AKC purebred yellow Labrador from us here at Mellow Yellow Labradors!!