Mellow Yellow'ss MY Way Down In Kokomo
Mellow Yellow'ss MY Way Down In Kokomo
Kokomo is our massive heavyweight stout English blocky black son out of Mellow Yellow's Jurgeson's Quiztime (white, traditional black nose) by Simply Silver's Kona Kailua Carries All Colors (chocolate silver factor), and Kokomo is gorgeous, thick boned, super laid back, easy going ALL English Black AKC Labrador male who has a sweet teddybear face and who is a true English Labrador Retriever heavyweight, weighing over 120+ lbs!
Kokomo is a full litter brother to Isis, and a grand son out of Mellow Yellow's Kloie's a Princess of Hatz Off (white, traditional black nose, OFA hips excellent, elbows normal, eyes CERF clear), and is grand son by an outside male Sidney's Mischevious Casper (white, traditional black nose, OFA hips excellent, elbows normal, eyes CERF clear), grand son out of Simply Silver's Crown Royal Caviar (charcoal, OFA hips fair), and grand son by Mellow Yellow's Bearly White Kodiak (creme, traditional black nose, OFA hips excellent).
Kokomo is a HUGE GORGEOUS teddy bear black Labrador, has nice lazy retriever drive, absolutely loves the water, and is usually the last one to get the ball!
At age one year Kokomo weighed 91 lbs., and today he is well over 120+ lbs. at age 3 1/2! We have coat color tested and expect Kokomo to produce black, chocolate, creme or white with traditional black noses, or Dudley which is creme or white with a chocolate nose, (because of his parents colors), and we have also coat color tested proving that Kokomo does NOT carry the silver gene. :(
Kokomo was born on 10/10/2013 and Kokomo is now available at stud to approved outside AKC females only, and as of June 29th, 2018, Kokomo sired his first litter so he is now a proven stud dog with a $1000 stud fee or pick of the litter our choice. Kokomo does not breed naturally so he does require artificial insemination, but his sperm count is very high and he sired 9 puppies on his first one time only insemination which is a very large litter for only performing it once. Kokomo was bred to Kascade who is light creme and produced 6 black puppies and 3 icy white white puppies with traditional black noses, so obviously Kascade only carries black and white coat color genetics.
Kokomo can produce black, white, and chocolate puppies and Kokomo is such an Impressive massive mosnter machine Oversize heavyweight English Labrador and he is our finest stud we have ever owned or produced as far as conformation goes Kokomo is drop dead gorgeous and a super neat dog who is also a very good level headed watch dog and guardian and protector of his family and pack of females. Trust me at 125 lbs, nobody is going to mess around with a male of Kokomo's huge presence plus his bark is enormous!
Please feel free to contact us anytime if you would like to inquire about using Kokomo at stud on your next litter, by calling us anytime on our home #208-739-9482, or our cell #208-284-3187, and we look forward to hearing from you!!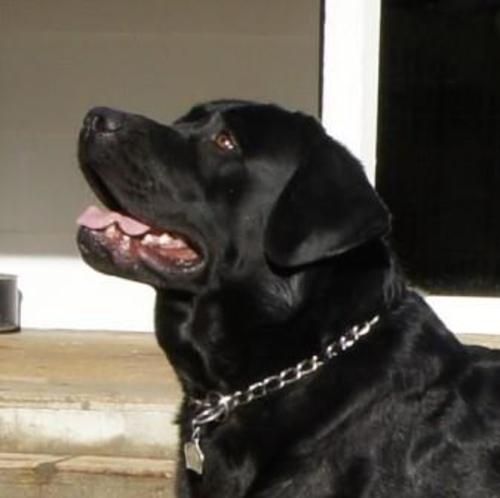 Introducing Mellow Yellow'ss My Way Down In Kokomo (black 125 lbs proven stud) taken 09/2017. Kokomo is Drop Dead Gorgeous and has a massive block head, tons of very thick bone, Kokomo is Large and Oversize and very tall at 125 lbs, so Kokomo is truely everything you would ever want or wish for in a true 100% English Labrador Retreiver heavyweight, with that super laid back, calm, mellow style and a super soft mouth!!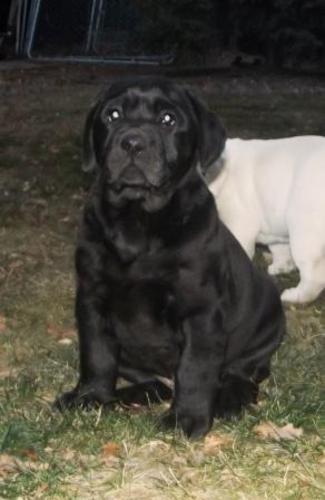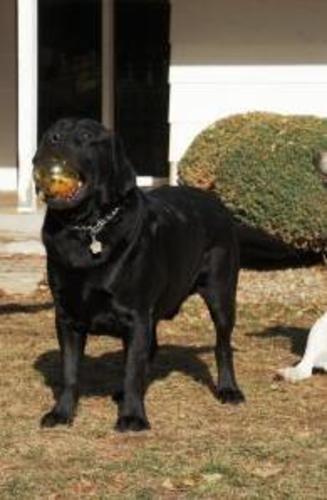 Kokomo has a MASSIVE headpiece and he is just such a Big soft teddy bear, and Kokomo is a huge 125 lbs black English male that will impress anyone and Kokomo is a fairly good watch dog too, he has a HUGE BARK that will scare anyone away!! Kokomo will certainly pass onto his puppies his gorgeous good looks and beautiful conformation along with his very English blocky teddy bear head and very thick bones onto his offspring, with Kokomo and Lilly both having a wee bit longer length of leg than your typical English Labrador which gives them more speed and drive and makes these pups perfect gun dogs or sporting companions! Kokomo produced 9 puppies in his first litter, with 6 blacks and three icy white whites and we cannot wait to use Kokomo at stud again in the near future, so watch for Kokomo to have more puppies in the future in approximately the Fall of the year 2020.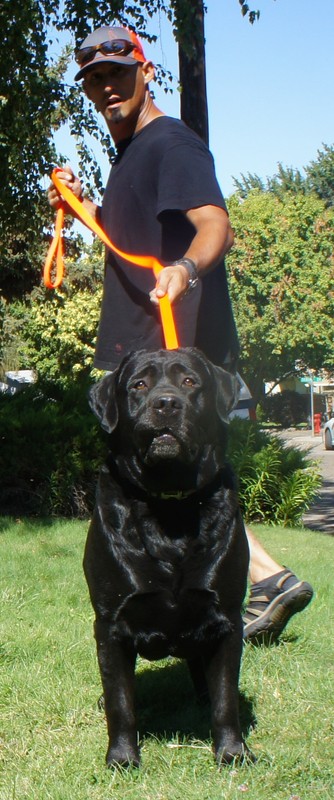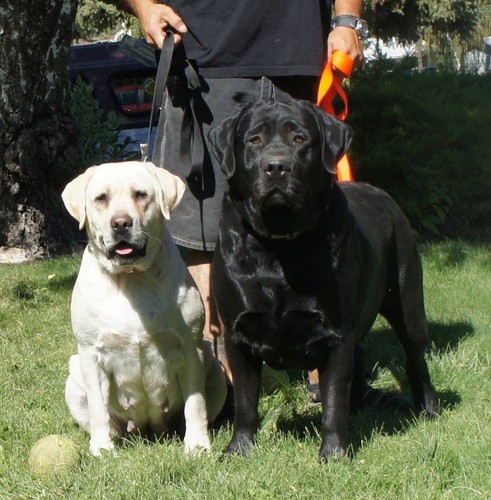 AKC Mellowyellows Snow & Ice On Kascade Mtn High Of SS, 93 lbs light creme traditional black nose (left), and AKC Mellow Yellow'ss My Way Down In Kokomo, 125 lbs black (right)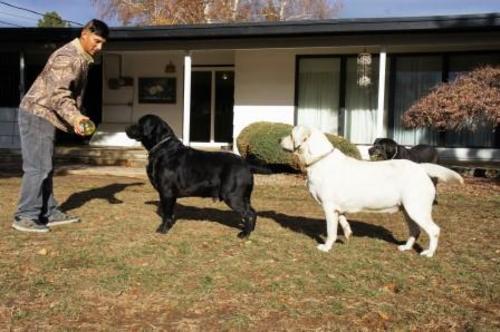 Kokomo and Isis are Big Giant Oversize True 100% English Labrador Retrievers, with Kokomo weighing a legit 125 lbs and Kokomo is very tall so compare him next to Josh and you can see how large Kokomo turely is indeed, with Isis his full litter sister being Oversize as well at 108 lbs, that is just enormous for any female!!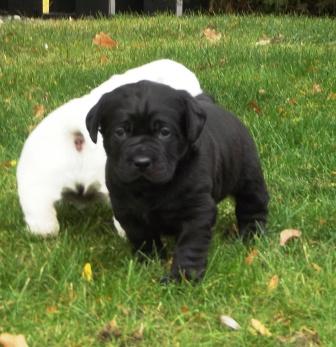 Kokomo pictured above at age 5 weeks showing off his adorably cute wrinkles!! Kokomo was the biggest thickest chuncky monkey black baby beast that we have ever had, and Kokomo by far is our Largest Oversize heavyweight English Labrador stud we have ever had the pleasure of owning in our Mellow yellow's lineup. Kokomo sired his first litter with Kascade on June 29th, 2018 and we have big palns in store for Kokomo in the near future, but for now Kokomo is looking our an outside girlfriend to carry on his bloodlines because we have no plans to use Kokomo again until we have another upcomming female ready to breed in about 2 years in 2021. Kokomo is a moster size massive block head male that is Very Impressive especially in person, and Kokomo is by far the very finest Oversize true English Labrador Retriever heavyweight you will likely ever find or see!! So come visit Kokomo, see how much of a big giant baby he is!! Also Kokomo is an amazing hunter as well as an amazing family guardian or watch dog, and Kokomo also catches dove birds in our backyard all the time on the fly!! With tons of low geared prey drive and a love for water that never quits, we just couldn't be More Pleased to have gotten such a big beautiful glossy black beast machine like Kokomo out of our very own exclusive bloodlines, which Kokomo is born, bred by, and raised by us here at Mellow Yellow Labradors and he is our 4th generation Mellow Yellow exclusive only peidgree that only includes dogs in the last 4 generations owned exclusively by Mellow Yellow Labradors with almost all of our dogs in our private bloodlines being in Kokomo's 4 generation pedigree.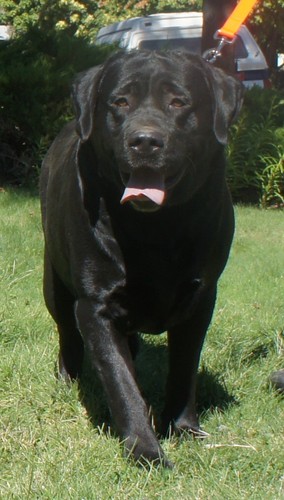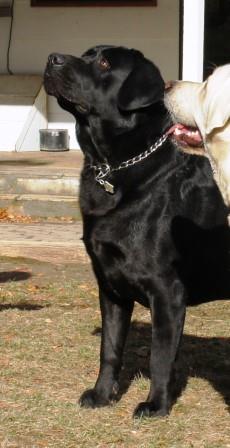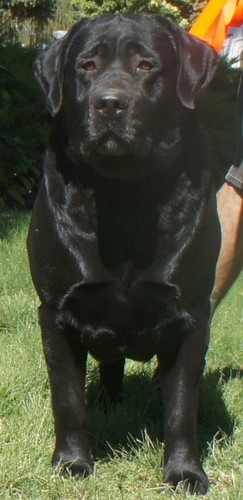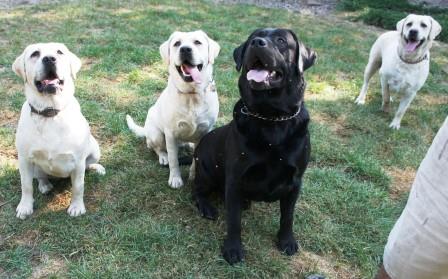 Kascade, 93 lbs light creme (left), Lilly 75 lbs white (middle), Kokomo, 125 lbs black (middle), and Isis, 108 lbs white mother to Kascade and Lilly, full litter sister to Kokomo